Ashwini Vaishnaw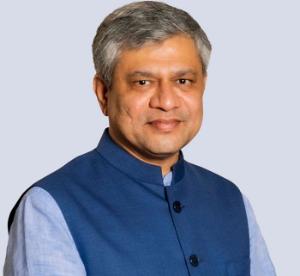 Minister of Electronics and Information Technology, India
Incoming GPAI Council Chair (2022-2023)

Shri Ashwini Vaishnaw was born in 1970 and is a Member of Rajya Sabha from Odisha. He served the people of Sundergarh, Balasore, Cuttack and Goa.

He holds a Master's degree in Technology from IIT Kanpur. He joined Wharton Business School, University of Pennsylvania for his MBA and then worked with GE Transportation as Managing Director and Siemens as Vice-President – Locomotives & Head Urban Infrastructure Strategy.

He brings a combination of skills in technology, finance and its application to the weakest sections of society. He firmly believes in the philosophy of 'Antyodaya' i.e., transforming the lives of the marginalised sections of society.